Review
All The Queen's Horses
VHS Video
A DVD version with slightly different content was also available
VHS VIDEO

"What a fantastic tribute"
All The Queen's Horses was presented for four evenings in May 2002, in the shadow of Windsor Castle, a stunning equestrian extravaganza celebrating Queen Elizabeth's Golden Jubilee and marking the Queen's love of horses.
Beginning with a war-time scene featuring beautifully presented tradesmens' carts and shire horses, the programme featured the many and varied aspects of the horse and horsemanship throughout the Queen's reign, culminating in the spectacular appearance of the Gold Coach as used by the Queen at her Coronation in 1953, and subsequently at her Silver Jubilee in 1977, and again in 2002 as the Queen and the Duke processed through the streets of London to St Paul's Cathedral for a service of thanksgiving.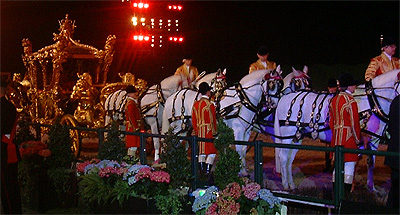 All The Queen's Horses was a spectacular night-time theatrical extravaganza of dramatic proportions, set against the magnificent backdrop of the floodlit Windsor Castle. All The Queen's Horses featured 1,000 horses, 2,000 participants, a 150 voice choir provided by St George's Chapel Choir and Windsor & Eton Choral Society, a 75 piece orchestra, dancers and actors.
Commentary: Alastair Down (Channel Four TV)
Formats: VHS. PAL (UK and Europe) and NTSC (USA).
Production: BBC Resources
Video Duration: Approx. 70 minutes.

Customer Comment
We have received the following customer comment from the USA
"I'm absolutely amazed after watching the tape. What a fantastic tribute to the Queen's lifelong interest in horses! You were right about the Gold Coach being a showstopper. I thoroughly enjoyed every minute of the tape, and I'm sure I'll watch it many times -- it's unquestionably the horse show par excellence!"
Eileen, Maryland. USA

We have received the following customer comment from South Africa
"... we loved it. Only England could put on a show like that!"

---
---

To contact us, email Thamesweb.



---