A Rusty Footbridge
Gets a Makeover
Commenced February 2003
Reopened June 2003
The footbridge by Oakfield School in Imperial Road was removed for refurbishment in February 2003. For a few hours on Sunday 23rd February engineers worked with heavy lifting gear to remove the main span of the footbridge from the piers and stairways supporting it and take it away to Legoland to be repainted. Legoland provided an area for this work to be undertaken by WMBC contractors, Jarvis Plc. A rumour at the time that the bridge would advertise Legoland proved unfounded. In the following week, work began on repairing and repainting the stairways and ramps on either side of the road, with the remaining structures on each side of the road encased in white polythene sheeting.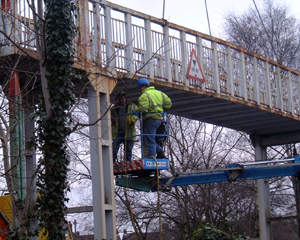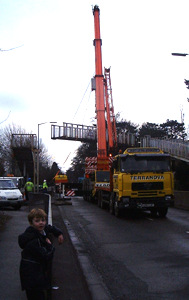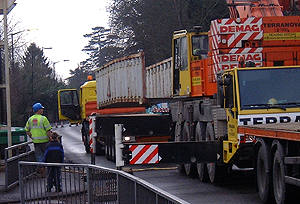 The bridge was due to be reconstructed at the end of April and re-opened to the public shortly after. Two 'all-day' closures of Imperial Road were scheduled at the start and end of the eight-week contract, both at weekends to minimise inconvenience to drivers, the first to remove the cross-span and trhe second to replace it. As it turned out, the road closures were for only a few hours.
Following the refurbishment and repainting, the bridge was reconstructed during the morning of Sunday April 27.
Cllr Derek Wilson, lead member for transport management at the time, explained: "Normally a scheme of this kind would need an eight-week road closure to allow the work on the footbridge overhead to go ahead in safety. However, we want to cause minimum disruption to road users so we have decided to repair the bridge off-site, which will allow us to keep the road open except for two Sundays. We feel this will be much appreciated by everyone and pedestrians will still be able to cross the road in safety by using the pelican crossings at each end of the road."
Update June 2003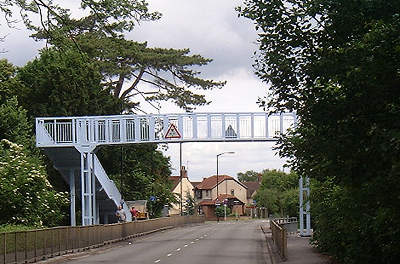 The bridge was replaced by crane on April 27th having been repainted in light blue. However, there was an extended delay until 5th June because the non-slip surface was not satisfactory and had to be reapplied.
The official opening took place on 5th June at 11.00am. The bridge cost £65,000 to refurbish and it is hoped that it will last a further 25 years.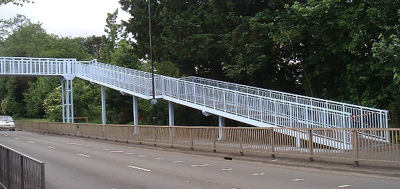 ---
We hope you will support the Windsor Web Pages by contributing a story or two!
For details please email ThamesWeb.