The Lying-in-State, Westminster Hall, London
The Lying-in-State of HM Queen Elizabeth, The Queen Mother, at Westminster Hall was a memorable event.
Although at times the queues meant a 4-5 hour wait, sometimes extended to 10 hours at peak times, the dazzling image of the scene once inside Westminster Hall was unforgettable. Around 200,000 made the trip to pay their respects to Her Late Majesty for very many different reasons, not least her lifelong commitment to this country.
These vast numbers of people wishing to pass by the catafalque we hope reassured Queen Elizabeth and The Prince of Wales and other close members of the Royal Family that their popularity remains as enduring as ever and that HM The Queen Mother, as an American was heard to say, "...was a hard act to follow".
At its peak the start of the queue on Sunday 7th April was adjacent to the Millennium Bridge, some three miles from Westminster even though the Hall was open 21 hours a day until the Tuesday morning, the day of the funeral.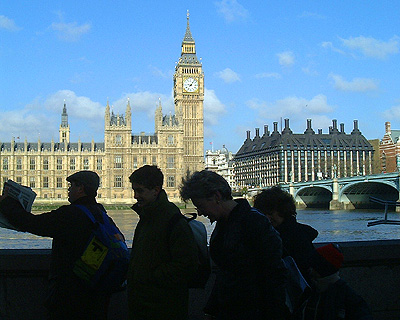 Members of the public on the south bank of the River Thames silhouetted against The Palace of Westminster on their way to Lambeth Bridge and the entrance to Westminster Gardens on the north bank.
Her Majesty Queen Elizabeth the Queen Mother set the highest examples of devotion to her royal duties and to her country and throughout her long life gained the love and respect of millions, both here and overseas. In just four days, around 200,000 members of the public filed past the catafalque in Westminster Hall as The Queen Mother's coffin Lay-In-State, so widespread was the public's affection.