The Golden Jubilee Beacon at Snow Hill
Windsor, 3rd June 2002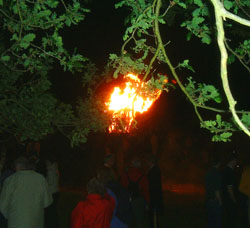 A beacon was lit beside The Copper Horse at the southern end of The Long Walk at 10.00pm on Monday 3rd June by The Mayor of Windsor and Maidenhead, Cllr. Leo Walters. The lighting of beacons on prominent hill tops was for many years an integral part of the defence system of this country warning of imminent invasion or other peril. At other times they were, and continue to be, a sign of celebration.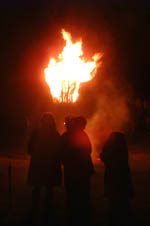 A bonfire beacon had been lit here in 1977, on Monday 6 June, by the Queen as part of the Silver Jubilee celebrations and on that occasion there was an amusing moment when the high-tech lighting device had not actually reached the beacon, yet the flames leapt into the air nonetheless. Apparently the ACTUAL lighting device was triggered by a hidden operator who misread his queue, lighting the beacon several seconds before the Queen had completed the ceremonial lighting! The Queen was delighted apparently, enjoying the glitch!
On that occasion this was the first beacon to be lit in the country, setting off a chain around the whole of the UK. Some hours later the last beacon was lit somewhere in Scotland.
The 1977 event in Windsor was accompanied by a fireworks display, thick with smoke, as I recall, drifting towards the assembled crowd! This year, as the celebrations continued in The Mall, Windsorians were already walking up The Long Walk to witness the lighting of the Windsor beacon and to celebrate with champagne, and sporting Union flags. The view of the floodlit Round Tower some three miles distant was worth the walk!
Several hundred other beacons, reportedly as many as 2000, were lit around the country, as well as overseas in those countries with close UK ties.
---
The Royal Windsor Web Site will report all events such as these and provide a permanent record together with references to the background of such events wherever possible.
Any information or additional material about Windsor is always welcomed and acknowledged.
Copies of photographs or texts can be emailed to the Editor, The Royal Windsor Web Site
---

To contact us, email Thamesweb.
---