Restoration of Albert Bridge, December 2003
In June 2003, Windsor and Maidenhead Borough Council issued the following Press Release.
Refurbishment Starts On Albert Bridge, Datchet
Work is underway to refurbish Datchet's Albert Bridge, Southlea Road.

The five-span bridge, which takes the B3021 over the River Thames, is in line for repairs and anti-corrosion treatment. The parapet will also be replaced and the whole bridge redecorated to give it a complete facelift.
Contractors Yoldings Ltd have started on site and the contract is likely to be completed in October. Much of the work will be carried out from barges on the river so disruption to traffic will be kept to the absolute minimum.
Afterwards new road signs and markings will be put in place to improve road safety at the bend on the approach to the bridge.
The scheme is part on the council's ongoing bridge improvement programme, ensuring local bridges are safe and are maintained to a high standard.

The following photographs were taken on December 17th 2003 during ongoing repair work on the Albert Bridge.
As can be seen from the photograph below, several accidents had taken their toll on the ballustrade of the bridge such that complete renewal was required. This work was undertakern in December 2003- January 2004 with one-way traffic over the bridge.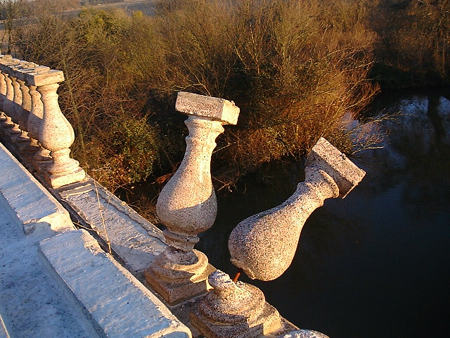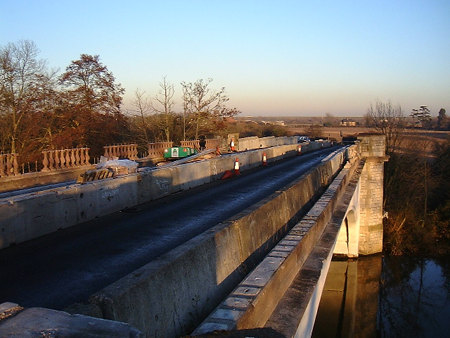 Here the carriageway has been reduced by large, heavy concrete barriers to protect the workforce on the upstream side of the bridge, and to prevent vehicles from falling off the bridge on the downstream side. All the bridge parapet has been removed on this side of the bridge.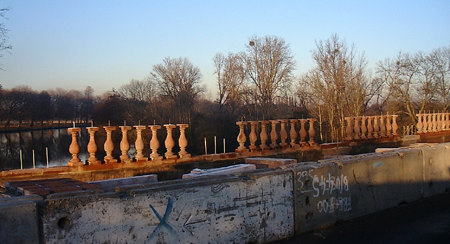 Pink balustrading is being used to replace the originals. The pink effect is presumably designed to look like granite although the centres are concrete.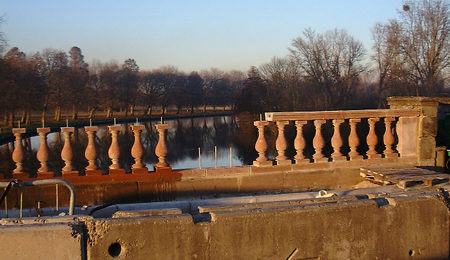 Pictures by JGC