In May 2007 we received an email from Sandra in Australia concerning the Dowsett family in Windsor in the early 1800s, following on from our story A History of Windsor Pubs.
My GGG Grandparents William and Rachel Dowsett were publicans of The Five Bells in Sheet Street from about 1826 - 1835. (Source: Pigots Trade and Tax Directory, 1830, page 66. Taverns and Public Houses. Five Bells. William Dowsett). Their seven children were born there, the first child born c.1827. William died there in December 1835. Rachel must have died about the same time as their surviving five children are included in the 1841 Census, four of them recorded as living in the Windsor Union Workhouse. Their youngest child, Edward Dowsett owned a shop in Peascod Street, at no. 83a. It was described as 'dining rooms' so perhaps was a café. (Source: The Berkshire Piggot & Co Directory 1860 -1890 page 660). A number of the extended Dowsett family appear to have been bakers. Edward Dowsett had a son, Edward Fletcher Dowsett, who emigrated to New Zealand in 1913. The picture below came from a descendant of Edward F Dowsett in New Zealand.


Edward Dowsett's shop at no 83a Peascod Street. The shop would have been on the western side of Peascod Street about nine shops up from the Clarence Road junction, half way to the Oxford Road junction.


Rachel was William's second wife. His first wife, Sarah, also died in Sheet Street so it is possible that William was the publican there at the time of his marriage to Sarah, from around 1816-1825.
The Dowsetts were a large extended family. Thomas Dowsett my GGGG Grandfather and father of William. He was a servant in the Royal Household and as some sort of 'Protector' to George III, George IV and at the Court of Queen Victoria. He was also a Bow Street Runner. (An early policeman, Ed) Thomas died in Sheet Street in 1845 and he and wife Susanna lived in Brunswick Cottages where she died in 1844. My GG Grandmother was Maria Dowsett, daughter of William and Rachel Dowsett.
The Windsor & Eton Express reports in their issue dated 1st October 1842 that The Quarter Sessions (Court) were also held there.
The picture of The Five Bells on your site was a thrill to see as I thought it had been pulled down. I could not find it mentioned on any modern day site. (We think it was demolished in about 1960, Ed)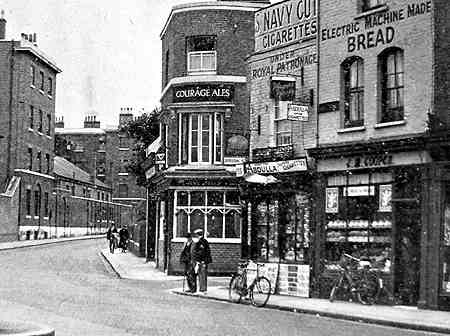 The Five Bells, Sheet Street
Additional Information
Thomas and Susanna Dowsett had 3-4 ? sons. Thomas Jnr born 1785. Occupation Labourer/ Gardener m. Charlotte Vine 1813 New Windsor. Seven children born in Sheet St and Peascod St.
__________________________________
James born c1787, occupation Butcher (Pigots Directory 1830 page 64 ) m. Martha Prince ( by licence) 1823. Five children born in Peascod Street and Sheet Street. James died 1840 ( P.R. & Berkshire F. H Burial list ) 1841 census includes Martha and states Widow. Occupation Butcher.
__________________________________
William born c1789, occupation Publican 5 Bells Sheet St. m. 1. Sarah Smith 1816. m. 2. Rachel Hambidge 1826. Seven children to Rachel born Sheet St.
__________________________________
Henry born c1800. Occupation Pages Man to George IV (Source article The Windsor & Eton Express 9th Jan 1836) m. Mary Ann Wicks. 1829 Buckinghamshire. Henry died 1838. Burial St John the Baptist, New Windsor 27 Feb 1838. I'm fairly positive Henry was a son of Thomas and Susanna following in his father's footsteps at the Royal Court.
__________________________________
Most of the information I have has come from the Society of Genealogists in London, Parish Records, Piggotts Directory, Windsor and Eton Express and any other article I can lay my hands on.
I have also to give credit to S. Dowsett in Essex who is a descendant of Thomas & Charlotte Dowsett. He has been very generous sharing his information and sent me the picture of my GG Uncle Edwards' shop in Peascod Street.
Thomas Dowsett, senior, Bow Street Runner, appears in five cases in 'The Proceedings of the Old Bailey'.
The information is on-line and is not to be confused with another Thomas Dowsett - Criminal.
St John the Baptist Church appears to have been the family's main church, at least for baptisms and funerals. I don't know whether any actual burials took place there. [Possibly at the Old Burial Ground by Bachelor'sAcre, subsequently at the the cemetery, Stag Meadow. Ed.]
The Dowsetts were a Windsor Family so hope this is of some interest.