The Royal Windsor Horse Show Index
Also see The Royal Windsor Horse Show Website
Royal Windsor Home Page
The Royal Windsor Horse Show - 2004
The Royal Windsor Horse Show 2004 proved to be as exciting and successful as ever in its fabulous setting beneath Windsor Castle, which is floodlit for the evening sessions.
Events this year included the Land Rover International Carriage Driving Grand Prix, world-class Show Jumping in this Olympic year, Military competitions, The Lusitanos from Portugal, Pony Club 75th Anniversary celebration events, as well as Monty Roberts, The Horse Whisperer in action every day. As always there were Fireworks on the last night, plus of course the magnificent Kings Troop Royal Horse Artillery, in our view one of the finest and most exciting military displays imaginable.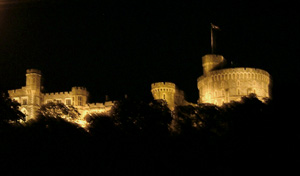 For more information please see
The Royal Windsor Horse Show Website
---
The Royal Windsor Horse Show - 2003

Horse Show events in the Home Park were cancelled on Sunday 18th May 2003, due to bad weather.
The organisers of The Royal Windsor Horse Show (14th-18th May 2003) are delighted to announce that visitors to the performances on the Saturday and Sunday of the show (17th & 18th May) will be able to see the world famous Musical Drive of The King's Troop, Royal Horse Artillery.
The display, which had been cancelled during the conflict in the Gulf, has been reinstated for the two performances only and will take place at around 7p.m. on each of those two evenings (subject to timetable alteration).
With over 3,000 entries and ticket sales for seated areas at near sell out levels, the show will live up to its reputation as the country's biggest horse show and the start of the summer social season.
Tickets for the Royal Windsor Horse Show are available from the box office, telephone 0870 121 5370 (or +44 115 912 9160 for international calls) and range from £12-£14 for adults and £7-£9 for concessions. The show is open every day from 8.30a.m. to 6p.m.. A very attractive Membership package is also available by ringing 01753 860633. To find out more about Royal Windsor Horse Show visit the website at www.royal-windsor-horse-show.co.uk

Editor's Note
Windsorians were delighted to hear that the Musical Ride of the King's Troop Royal Horse Artillery was reinstated at the Horse Show in 2003. Due to the war in Iraq, the display had been withdrawn but, in its 60th year, the Horse Show really did deserve this spectacular display.