The following photograph was kindly supplied to The Royal Windsor Website in June 2005. We are immensely grateful to the previous owner for her generous offer. In another story here, we give more details about Trooper Brown, but in this article we would like to use the photograph of his funeral cortège to identify some of those buildings along his route that either remain or are long since gone. We hope Trooper Brown would be pleased that such a sad occasion has resulted, 90 years later, in such valuable historical reference.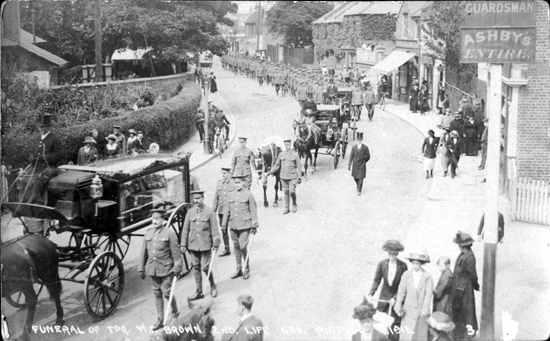 The Funeral Cortège of Trooper W T Brown in St Leonards Road, July 1915
In the intervening 90 years, St Leonards Road has changed considerably and in August 2006 changed once more when the houses at Greenland Villas, dating from 1880, and numbered 131-139 St Leonards Road, are demolished by the Sunlight Laundry.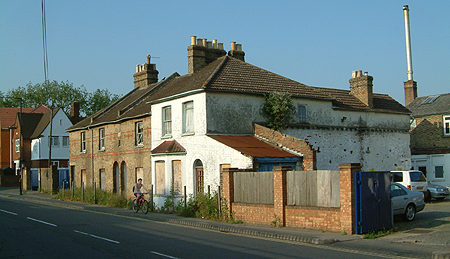 Greenland Villas in late June 2005, before being demolished

Greenland Villas, built in 1880, covered in ivy, July 1915
Nearer the camera 'The Jolly Guardsman' Pub was demolished many years ago now with flats built on the site. These, on the right of the picture below, seem to be 1960s era. We would welcome more accurate news of their date. Also in the centre, two other houses remain, now rendered in cream and occupied by Chevron Holidays.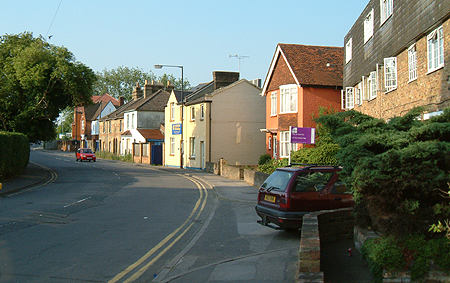 St Leonards Road, 28th June 2005
Although St Leonards Road has changed a great deal along its length, some parts remain almost identical, especially to the left, where the hedge and narrow garden remain to this day. In the photo extract below, the wall beyond the garden has been rebuilt yet still forms the perimeter of Combermere Barracks. In this extract the residents of the house just out of shot are watching as the funeral of Trooper Brown passes.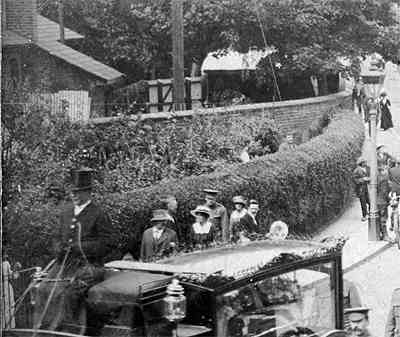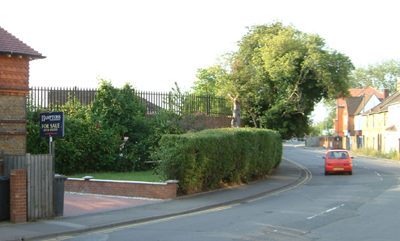 The 'horn' shaped garden still with its hedge border.
Has the hedge been there continuously since 1915 and before???
Anyone with memories of the shops and houses in this area, or anywhere in Windsor for that matter, especially if photographs are available, are invited to contribute to this series about Windsor, Then and Now. To contact us, please email Thamesweb.