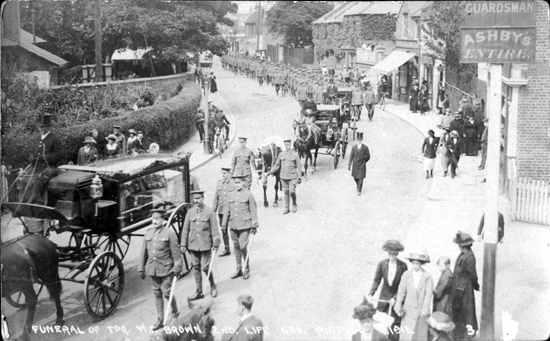 The Funeral Cortège of Trooper W T Brown in St Leonards Road, July 1915
During the First World War, on 7th July 1915, Trooper William Thomas Brown of the 2nd Life Guards, "A" Squadron, died. He was 40 years old. His service number was 2004. The Commonwealth War Graves Commission records that he was the son of James John Brown and husband of Elizabeth Newport (formerly Brown), of 42, Bolton Road, Windsor. He was born in Norfolk and is buried at Windsor Cemetery, Grave Reference AN 147.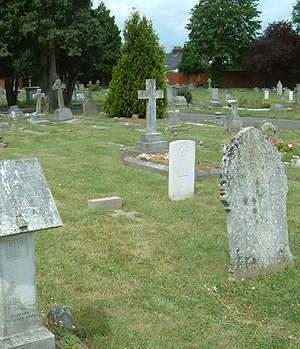 The grave of Trooper Brown in an area of Life Guards' graves
at Windsor Cemetery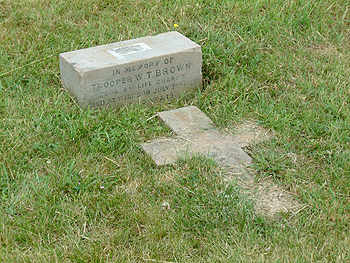 In memory of
Trooper W. T. Brown
2004 2nd Life Guards
Died at Windsor July 7th 1915
Aged 40 years
Respected by his colleagues
The inscription on his grave notes that he 'died at Windsor' so it seems that he was severely injured in battle and brought home where he sadly died. The Commonwealth War Graves Commission website has created an In Memoriam certificate to Trooper Brown here.
The time of writing, July 2005, represents the 60th anniversary of VJ Day and the end of the Second World War, so we take this opportunity to remember Trooper Brown and the millions like him who have died in war.
In the photograph above, taken from the first floor bay window of 151, St Leonards Road, the horse-drawn hearse is on the left where it is just possible to make out the coffin draped with the Union flag. Two members of the 2nd Life Guards walk behind with Trooper Brown's horse which traditionally would have his riding boots in the stirrups, but reversed. Behind his horse comes two carriages with members of his family and bringing up the rear, his fellow troopers from 'A' Squadron.
In 2003, in the course of the Iraq War, the Military Funeral took place in Windsor of Lance Corporal of the Horse Matty Hull who was serving in Iraq with D Squadron of the Blues and Royals, Household Cavalry Regiment, based at Combermere Barracks. This Military Funeral would have born many resemblances to that of Trooper Brown 88 years earlier. The Funeral of Lance Corporal of the Horse Matty Hull.
We are grateful for this unique photograph which not only recalls a sad day in Windsor's history, but which may quite possibly be the only view of St Leonards Road at that time, so many years ago.
The Route of his Funeral
We believe that the funeral service took place at Holy Trinity Garrison Church after which Trooper Brown's coffin was carried along St. Leonards Road to Windsor Cemetery where he lies to this day.
In the intervening 90 years, St Leonards Road has changed considerably and in July 2005 changed once more as the houses at Greenland Villas, dating from 1880, and numbered 131-139 St Leonards Road, were demolished on the Sunlight Laundry site which is scheduled for redevelopment around 2011.
We have used this fascinating glimpse back into the past to identify the buildings that remain and those that have gone long ago, replaced by more recent designs of questionable attraction. Our story is here, St Leonards Road, 1915, in our Then and Now series.
This story is also featured on our Discussion Area for you to add any information you may have.
Our Then and Now series also includes images of the 2nd Life Guards marching along St Leonards Road
Trooper Brown Discussion
Additional information - Windsor's War Dead
Clewer War Dead