Military Ceremony In Windsor
The Military Funeral of
Lance Corporal of Horse Matty Hull
Wednesday 16th April 2003, 2.30pm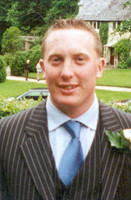 The Military Funeral took place this afternoon of Lance Corporal of the Horse Matty Hull, a victim of the Iraq war on March 25th, when he was killed allegedly by an American Tankbuster A10 aircraft in a so-called 'friendly fire' incident. Matty Hull was serving in Iraq with D Squadron of the Blues and Royals, Household Cavalry Regiment, and was based at Combermere Barracks here in Windsor. Four of his colleagues were wounded in the attack on their armoured vehicle. LCOH Hull was killed three days before his 26th birthday.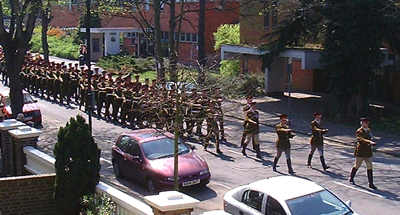 The Band and Troops march to Holy Trinity & Garrison Church along Alma Road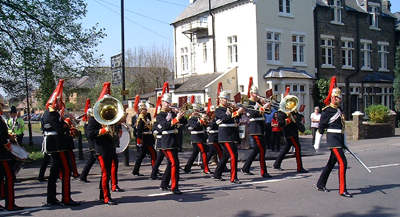 The Band of the Blues and Royals turn into Claremont Road
Matty Hull's wife, Susan Hull, has published the following statement on The Ministry of Defence Web Site
"I have decided to issue this statement because I feel strongly that I should make clear that Matty wasn't just another number added to a casualty list.
"He is, without doubt, the most exceptional man I have ever met; a loving and supportive husband and son, a dedicated soldier and a great friend to so many. He had rightly earned the utmost respect from everyone he worked with, and this makes it that much harder to accept this accidental death.
"Matty was fully committed to his role, in the army as a whole, and both his Regiment and Squadron. I know that he was where he wanted to be, doing the job he believed in when he died.
"It is not easy to come to terms with the fact that someone who was so full of life has had his so cruelly cut short, just three days before his 26th birthday, but come to terms with it we must. Matty's personal strength instilled in me the ability to 'dig deep' and 'be strong', and that is what I, and everyone who loved him so greatly, must now do. It is what he would want.
"May I express my sincere thanks to all at Household Cavalry Regiment for their support throughout this terrible time, and I pray that this war will be over swiftly with no more such tragic deaths.
"Matty always strived for a challenge and Iraq has proved his ultimate test. His aim in life was to be the best he could be, and there was certainly no better husband, son or brother on this earth. May I request that myself and Matty's family are now left in peace to mourn over our devastating loss."

Also on the MOD Web Site, The Commanding Officer of the Household Cavalry Regiment, Lieutenant Colonel Mark van der Lande OBE, gave the following statement:

"It is with deep regret that the Household Cavalry Regiment learnt of an incident involving soldiers from D Squadron, The Blues and Royals, of this Regiment, who are serving on operational duty in Iraq with 16 Air Assault Brigade. An investigation is taking place in theatre but, because of the operational situation, the full facts of the incident have yet to emerge. We have been informed that one soldier is missing believed killed and four have been wounded. The Squadron was in action at the time but it is suspected this may have been a 'friendly fire' incident. The next of kin of all those involved have been informed, but they are not yet ready to release nor do we intend to release details of those involved at this stage.

"This is a particularly difficult time for the Regiment and its families. I would like to pay tribute to the bravery and courage of these soldiers and to that of the rest of the Squadron. We are professional soldiers and our job carries risks, but any loss is a bitter blow. It is hard too for those families not directly involved in this incident. I would therefore ask that the Regiment and our families be left to themselves both to grieve and to support each other. When we are in a position to make a further announcement we will do so. In the mean time, our thoughts and prayers are with the families and with D Squadron as they continue on operations in Iraq."
© MOD Copyright
The service was reported on Sky News with bulletins featuring live coverage throught the afternoon. A number of Windsor residents stepped out onto the streets to watch as the band of the Blues and Royals passed by, accompanied by some 200 soldiers marching to Holy Trinity Garrison Church. After the service the coffin was placed in a hearse and driven off at walking pace with the director, Robert Newman, walking ahead.
The coffin leaves the church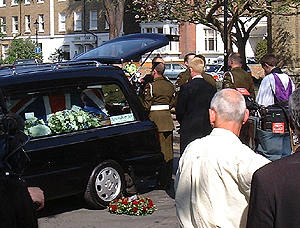 Matty Hull's coffin is placed in the hearse
The Regiment's Wreath is brought from the church to be placed in the hearse


Funeral Director Robert Newman
walking ahead of the hearse as the cortege left Trinity Chuch