Windsor Then and Now
A Pictorial Series of Windsor Views from the past and present
The Life Guards in St Leonards Road
1906, 1908 and 1912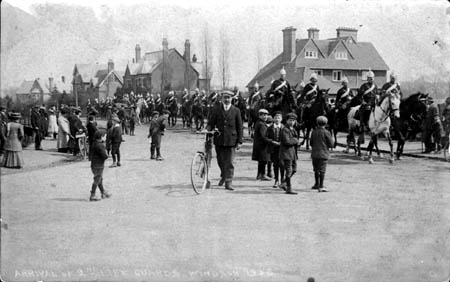 A postcard from 1908 showing the 2nd Life Guards in St Leonards Road, passing the site of the King Edward VII Hospital, yet to be constructed.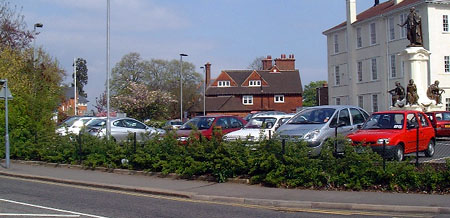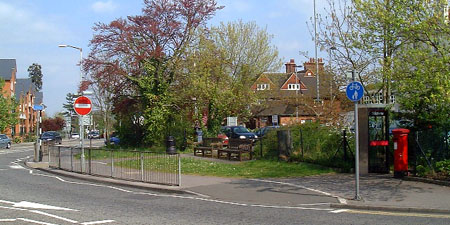 Approximately the same view in April 2002. More trees, more buildings but the house is little changed although it is now used by the hospital.
Another postcard has now come to hand (Jan 2005) which shows the 2nd Life Guards once more, this time on their way towards town along St Leonards Road, the caption reading 2nd Life Guards going to Church. It is postmarked several years earlier in May 1906 and may have been taken some time before that. At the time of writing the smaller terraced houses remain. The church certainly The Garrison Church, Holy Trinity Church, in Trinity Place. Trinity Church is featured in this article - Windsor Churches,
Centre right, the hoarding in front of one of the taller buildings reads Bampfylde. In the 1901 Census, Edward Bampfylde is listed, aged 49, born in Dunreton, Somersetshire, and in 1901 resident in New Windsor, Berkshire. His occupation was 'Builder'. There is more about Bampfylde here.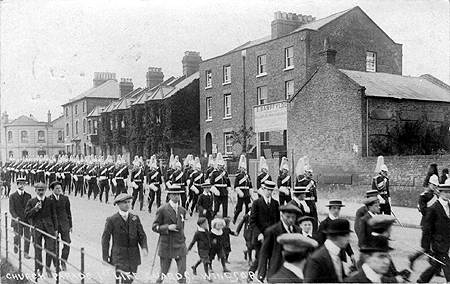 At first glance this could be the same photograph but in fact it is around six years later. Although not mentioned on the card, I believe it to be by the same photographer, T E Cochrane. The caption reads Church Parade. 1st Lifeguards Windsor. The troops, presumably every Sunday, would march to and from church, accompanied by local residents. Note how the ivy has grown up around the terraced houses, a small tree is now growing in the front garden of the Bampfylde house and almost all the posters have been removed from the wall, centre right!